There's nothing quite like a relaxing afternoon on the beach. The surf, the sun, and a beach chair…what could be better? Hawaii is known for having some of the best beaches in the world. With gorgeous white sand and glistening turquoise water, it truly is an island paradise. If you're planning a trip to Hawaii, here are some of the best beaches to see!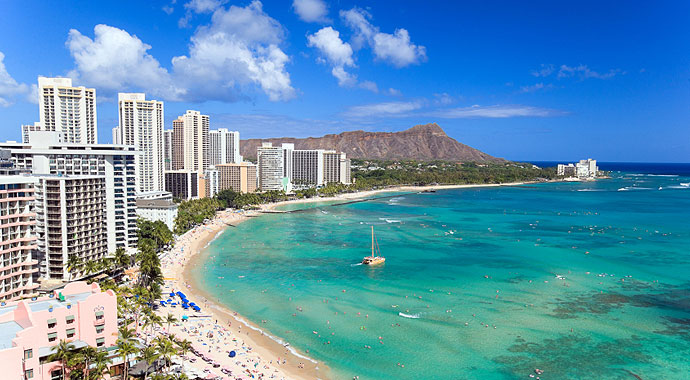 Waikiki Beach, Oahu
Waikiki Beach is Honolulu's most popular beach…and there's a reason it is so well known. It doesn't just have gorgeous scenery. There are also surf lessons and other fun activities to enjoy while you're there. Plus, it was historically used as a getaway for Hawaiian royalty! Nowadays, there are hotels and restaurants all over the beach area, making it a must-see tourist spot.
Ho'okipa Beach, Maui
Are you into surfing, windsurfing, or swimming? Then Ho'okipa Beach in Maui is the ideal beach to visit. It is known for having a ton of great areas to participate in ocean sports. Windsurfing is especially popular because this beach has some of the best waves along the coastline of Maui. If you don't know how to windsurf already, you can always take lessons! This is definitely one beach that you won't want to miss.
Punalu'u Beach, The Big Island
Have you ever seen black sand before? Well, this beach actually has it on offer. Yes, Punalu'u Beach is known for it's uniquely dark black sand. If that wasn't enough, this area is also the home of the endangered green sea turtles. If you plan on visiting this stunning Hawaiian beach, there is so much to do and see. You can lie out in the sun, snorkel, or just enjoy the view.
North Shore, Oahu
Hawaii is known for a lot of things. One of them is most definitely the surfing! If you're a fan of the sport, you can head to North Shore Beach to take in the biggest and baddest surfing competitions. They take place along this gorgeous 7-mile long stretch of beach. If you're feeling brave enough, you can also do a little surfing of your own. This area is known for having some seriously big waves, though…so be careful.
Lahaini Beach, Maui
Want an unforgettable beach wedding ceremony? Then Lahaini Beach is the place to be. This area is often used for beach weddings and renewal ceremonies because of its' stunning (and romantic) backdrop. This spot also hosts the Old Lahaina Luau. The Luau offers traditional Hawaiian food and even hula dancing. What could be more fun?
Poipu Beach, Kauai
Travelling with the entire family can be great. When you're heading to a beach though, you always need to be careful when you've got little ones running around. Poipu Beach in Kauai is a great beach for families with young children. Why? The water in this area is quite calm and fairly shallow. This means the entire family will be able to enjoy the view without worry.
Ready to relax in style? Then check out one of the most beautiful beaches in Hawaii! When you're enjoying paradise from the comfort of your beach chair, you'll be hard pressed to think of anything better.