International flights can range from up to 45 minutes to 18.5 hours, dependent on where you're headed. Long enough for entertainment and dressing comfortable to be an absolute essential in order to ward off the likes of cabin fever, claustrophobia, boredom and frustration from an inability to sleep sitting up. What's suitable to occupy our minds on a plane though? Nothing too heavy, otherwise we won't be able to carry it in our hand luggage. And nothing too expensive either, because we're not made of money.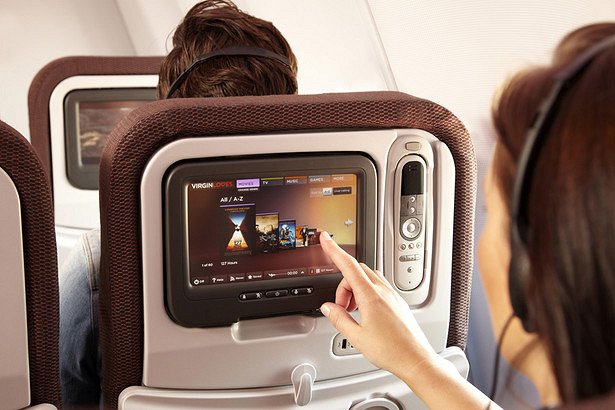 In-flight entertainment
Airlines supply entertainment to keep passengers happy. Or at least they do if they are a pricier company. Two airlines which do nothing of the sort are Ryan Air and Easy Jet, and a few flights with them has been enough to convince me that perhaps upgrading is worth the money, if only for the additional comfort and entertainment on offer. Often there's a screen on the seat in front of you and you can choose between a selection of films and television programmes, dependent on your tastes. Or there's an in-flight radio station for anyone with headphones.
Internet access
Lots of aircraft are equipped with in-flight broadband internet service, which makes it possible for passengers to access the internet mid-flight and keep up with their social media accounts. I didn't even know you could do this on planes until a friend recently told me about playing bingo through the WiFi on her flight from New York to Chicago. Apparently she spent half the time discussing the game with friends she met through the Cheeky Bingo Twitter page. It turns out that while many airlines don't allow it, the cabin crew will mention the broadband if it is accessible before you even take off! That serves me right for blocking out the safety demonstration.
A notepad
Take an A3 notepad with you in your hand luggage, because you can play games with the passenger next to you to pass the time. Hangman is a popular choice that gets at least 30 minutes of entertainment out of it. Or perhaps you can create a bingo board by drawing one on a page and copying out the numbers onto another. Then tear up bits of paper to represent the tokens which will be pulled out of a plastic cup. The person who fills their makeshift bingo board first is declared the winner and you can start all over again. Noughts and Crosses is also a popular choice.
Deck of cards
Hours of fun can be had from a deck of cards, provided you don't drop them over the floor and lose some. Games of Snap, Go Fish, Blackjack and Balderdash have been played on the various flights I've taken over the years on the fold-up food trays. And actually, a deck is one way of playing bingo, because you can pull cards from the pile, and the first to match all the cards to the ones listed on their notepad is the winner.
Phone and tablet apps
When your phone has been put on Flight Mode you can't access the internet. However, any apps you have downloaded previously will be available, in which case dependent on how many you have, that's hours of fun and distraction. From games of Bingo to Candy Crush, Angry Birds to Scrabble, make sure you have downloaded as many games as you think you'll require onto your phone or tablet. Oh, and make sure you have a charger with you. Running out of battery mid-flight is a disaster.