CAMPING IN BRITTANY
Along the quintessential west coast of France the azure blue skies, fresh sea breezes, sandy beaches, lush countryside, coves and fishing villages welcome you to the enchanting Brittany Peninsula with 3000 km of coastline bordering the Atlantic Ocean. It offers a truly authentic French experience with gorgeous camping sites ideal for families ranging from family run sites, beach front, wooded parks and sites with swimming complexes.
Brittany has always been influenced by the sea, making it ideal for the beach loving family. The family will enjoy exploring the coves, gastronomic adventures in local restaurants, pottery along fishing villages and leisurely walks along wide sandy beaches or even splashing in the sea. For those that love the outdoors, camping in Brittany opens up the opportunity to venture deeper into the countryside and explore impressive medieval towns, charming traditional villages and amazingly varied landscapes with towering mountains, deep valleys, rugged heath and a comprehensive network of rivers and canals. There are a lot of activities such as swimming, walking, surfing and cycling that will keep everyone entertained.
Many families love Brittany so much that they invest in property there. There is lots of property for sale in Brittany both along the coast and inland for those interested, with a full range of options for different budgets, from mobile homes to luxury villas.
SKIING IN THE ALPS
In France, the adventure never ends. Just when you think that winter is cold and boring the mighty French Alps beg to differ. It is home to the largest ski areas in the world in terms of interconnected lifts and trails: this means you can ski on one ticket without the discomfort of having to transfer resorts. There is also a wide variety of accommodation to choose: from reasonably priced condos offering breakfast and even attractive full board packages; if it is luxury you are after you can splurge on high end places like Meribel, Courchevel and Chamonix. Here luxurious ski chalets and lavish family friendly resorts offer cozy accommodation and customized packages.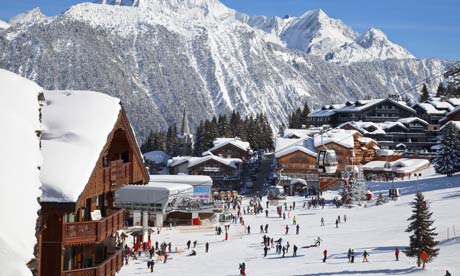 The Alps will give your family an experience like no other in the world, alpine charm, all sorts of off slopes activities not forgetting the gastronomic experience of France. There are three major resort complexes which include Les Trois Vallees, Paradiskis and Les Portes du Soleil, each with charming individuality and offering great experiences to families.
CITY BREAK IN MARSEILLE
The city of Marseille is a fantastic destination for the history buff, bearing an irresistible rustic charm of France's past. It is the oldest in France and the second largest. It boasts of a long and intriguing history, fascinating culture and bags of personality. It is a unique city with plenty of sunshine, miles of spectacular sandy beaches and aromas that will tantalize your taste buds.
A family break in Marseille is much more than a city break. You won't be disappointed by the colorful port bustling with activities, the picturesque buildings some a vintage display of the gone past. You will definitely be blown away by the breathtaking dramatic coastline with rugged cliffs, hidden creeks and the sandy beaches to explore. You can indulge in cycling along the coastal paths and discover secret coves together with your family.